There is Russian espionage afoot in our nation's capital. But while the mainstream media focuses on the Donald Trump administration and its actions in the past days, weeks and months, no one has looked into Russian spying in Washington that is not tied to President Trump. Well, no one save this media organization that is.
What follows are simply FACTS about Washington Capitals left wing Alexander Ovechkin. You can draw your own conclusions after you digest this very damning information.
FACT #1: Alexander Ovechkin and Vladimir Putin have very close ties. See the photo below. They are practically best friends.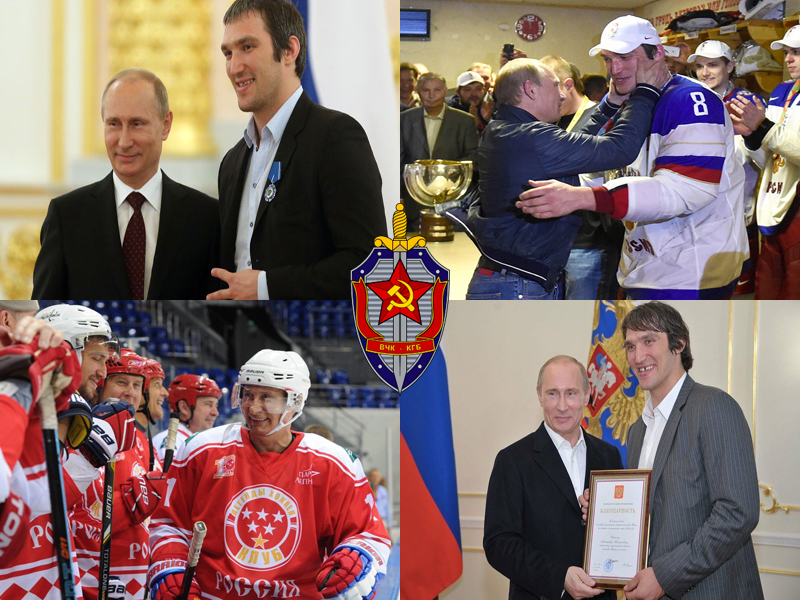 FACT #2: Vladimir Putin became president of Russia on May 7, 2000. One year later, an impressionable 16-year old Alexander Ovechkin began playing professional hockey for Dynamo Moscow — located in the very same city as the Kremlin. In fact, the Kremlin and the Dynamo's home arena are just 9.4 km apart. It would have been easy for Putin to groom the young hockey star for a future in the United States.
FACT #3: In 2001, U.S. president George W. Bush said the following of Putin after meeting the Russian leader: "I looked the man in the eye. I found him to be very straightforward and trustworthy. We had a very good dialogue. I was able to get a sense of his soul; a man deeply committed to his country and the best interests of his country." Putin surely sensed weakness in Washington. Weakness he could exploit to Russia's advantage.
FACT #4: Alexander Ovechkin became eligible for the 2004 NHL Draft, which just so happened to be a year in which the Washington Capitals had the No. 1 overall pick. Making good money in Russia and with an NHL lockout looming , Ovechkin could have stated he would refuse to sign with the Capitals — a historically awful franchise with weak fan support located in a hockey apathetic section of the country — but instead he allowed himself to be selected by the team located in that nation's capital. Interesting, to say the least.
FACT #5: The task for any spy working in plain view is to blend into the local community so people trust them and never suspect what they're up to. So what did Ovechkin do upon arrival in Washington, D.C.? He quickly became the most popular player in Capitals history.
FACT #6: In 2008, Ovechkin signed a 13-year contract to stay with the Capitals. THIRTEEN YEARS. A player of his talent could have signed for any team, teams with championship heritage in bigger and better hockey markets, yet he seemed quite adamant about staying put in the U.S. capital for as long as possible. Curious.
FACT #7: Alexander Ovechkin is a skilled hockey player … but one who has essentially not improved his game at all since arriving in Washington, D.C. He scored his career high in points in 2008 and hasn't scored more than 85 points in a season since 2010. He stands on the point and fires one-timers on the power play. He rarely back-checks. He is a finished product. So if Ovechkin isn't working to improve his game in Washington, what exactly is he doing there in all the time he's not on the ice?
FACT #8: Huh.
With the First Lady! http://yfrog.com/h2yz4ndj

— Alex Ovechkin (@ovi8) April 1, 2011
FACT #9: Despite his hockey skill and the fact that he plays on talented teams every year, Ovechkin has NEVER advanced beyond the 2nd Round of the playoffs in ELEVEN YEARS in the NHL. How is that possible? It's also odd that his production drops off every year in the postseason, no? But by getting bounced out of the playoffs early ever year, Ovechkin gives himself two extra months each spring to do … other things in Washington, D.C.  What might they be?
FACT#10: Living a double life is a very stressful existence. Ovechkin's hair turned gray in his twenties. Coincidence?
FACT #11: While meeting with the First Lady is surely one way to try to secure state secrets, no spy would stop there. In the Spring of 2016 — at the very same time Putin was attempting to hack the U.S. election — Ovechkin infiltrated the halls of Congress.
FACT #12: All spies know that a great way to get their hands on information is to create a diversion. Well, when Ovechkin was in the office of Senator John  Thune last March, he BROKE THE SENATOR'S CHAIR.
FACT #13: Sen. Thune is on the Senate Subcommittee on Aviation Operations, Safety and Security. You think a spy would want to get his hands on information about U.S. SAFETY and SECURITY? Yeah, probably.
FACT #14: Ovechkin also made his way into Congress in December of 2013.
FACT #15: Oh, guess what? That visit by Ovechkin to the halls of power came just months after then-President Obama cancelled scheduled talks with Putin. Bent on revenge much, Vladimir?
FACT #16: When questioned about their allegiances, spies will always deny, deny, deny. Here is Ovechkin when asked by CNN in January 2017 on his thoughts on Russia's tampering with the U.S. election:
"I have a good relationship with Russians, and with Americans. So I'm neutral."
FACT #17: Alexander Ovechkin has never won a Stanley Cup and Stanley Cup champions get invited into the White House. Is that because he is a flawed player? Yes, no doubt. But it's also very likely that Putin decided he didn't need Ovechkin in the White House when he could just put Donald Trump there.
Those are the facts.
Now you decide.